Based in Fabulous Las Vegas…
Gumbo Medical, LLC has a long track record of being committed to the healthcare system, supplying hospitals, clinics, private practices, and educational facilities alike with quality equipment!
We sell a variety of quality new, pre-owned and refurbished medical equipment from recognized leading manufacturers such as Stryker, Hill-Rom, Ritter, Steris, Baxter, Zoll, and more.
Our History
Since 2001, Gumbo Medical, LLC, a family-owned and operated business has been your direct source for new and refurbished medical equipment. Launched in New Orleans, Louisiana we are now fully based out of Las Vegas, Nevada, and ship worldwide.
Our Vision
It's really simple – we are both an authorized direct distributor of newly manufactured products and a direct supplier of refurbished pre-owned medical equipment. At Gumbo Medical we refurbish pre-owned medical equipment in-house using our own trained and highly skilled technicians who have years of hands-on experience.
Many companies sell refurbished equipment, however very few actually perform the work!
Our unparalleled customer service, intimate technical product knowledge, and industry best refurbishment process has made Gumbo Medical a trusted supplier and reliable resource to our customers.
DOTmed Top 100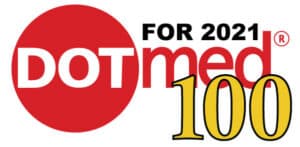 We are proud to be apart of the
DOTmed Top 100 for 2021
as one of the best vendors and suppliers in the healthcare industry.