Our professional refurbishment process for used medical equipment allows you to stretch your purchasing dollars while maintaining impeccable standards of care and comfort for your patients. We care about maintaining high standards every step of the way.
Save Money On Refurbished Medical Equipment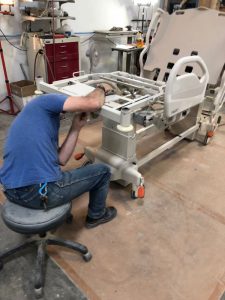 As prices continue to rise, most businesses are looking for ways to cut costs where possible. Choosing to buy refurbished medical equipment direct from the source is a great way to accomplish this. We maintain the quality of care and comfort your patients expect with "like new" restoration.
When purchasing our used and refurbished equipment, you can feel confident in knowing that you are getting quality products. You can also depend on having helpful customer service at your fingertips.
Since we repair and restore in-house – our techs are able to provide some of the best support available in the industry.
As Good As New
You can find many suppliers that sell used medical equipment online. Unfortunately, very few of those companies perform the restoration work in-house like we do. We have a large warehouse full of like-new items ready to ship.
We use our own highly-skilled and trained biomedical technicians. These professionals bring years of hands-on experience to their work, giving us in-depth technical knowledge for the products and equipment we sell.
Coupled with our unparalleled customer service, this has made us a trusted and reliable resource to our repeat customers.
Industry Best Refurbishment Process
Every piece of refurbished equipment we sell goes through an eight-step process. We want to ensure that the quality, performance, and appearance we are offering you are all "like new."
Thorough Preliminary Inspections
Disassembly
Cleaning
Repairs
Painting
Relabeling
Reassembly
Final Inspections
Preliminary Inspection & Disassembly
Each piece of equipment undergoes an initial inspection to determine if it is functioning to the manufacturer's specifications. During this step any damaged or missing parts are identified. Each piece then gets disassembled, is sanded down, and receives a deep cleaning.
Cleaning, Repairs, & Painting
Next, your equipment is washed to remove any dirt, grime, or tape residue and then sanitized and prepped for paint. Any damaged or missing parts are repaired or replaced with OEM (original equipment manufacturer) replacement parts.
Everything is then repainted, removing any chips or scratches. This ensures that you get a product that is cosmetically pleasing and once again looks like new.
Relabeling & Reassembly
Next, we make sure each piece of equipment is relabeled with new OEM labels. Then, it's time to fully, and carefully reassemble everything.
Final Inspections
A final function and safety inspection is performed by a biomedical technician to be sure everything works according to the original manufacturer's specifications.
Any additional repairs that are needed are made, and any part that's missing is again replaced with OEM replacement parts. All moving parts are lubricated or greased.
Which Products Can I Buy Refurbished?
90% of the medical equipment and supplies found on our website is used and refurbished. We also provide brand new carts, mattresses and bed pads, overbed tables, and IV poles, and a few other items. We look forward to helping you get everything you need at the quality and price you're hoping for.
Buy Refurbished Medical Equipment Today
When it comes to medical and hospital equipment sales, you want a company that stands behind their products, especially if you're buying refurbished. At Gumbo Medical, LLC, we offer you customer service, affordability, and top quality.
Contact us today to place an order or request a quote. We look forward to helping you.